Electric screw press machine were widely apply to precision forging of all kinds of metal parts as it's advantage of :controllable power,high precision forging parts.
Now,this most advanced electric screw press machine were produced by Zhengzhou Haloong Machinery Manufacturing Co., Ltd.this machinery Can control its strike force accurately,low noisy,high efficiency strike,and were popular in auto parts,agricultural machinery parts,railway,mining machinery.process flow of haloong forging automatic production line:feeding-forging forming-Automatic Spray Graphite-automatic unloading-finished product.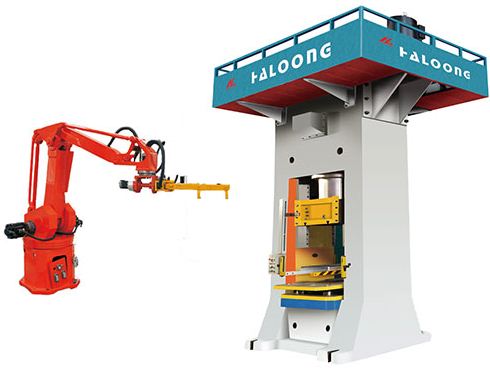 The symbolic automatic device of electric screw press also include :auto feeding,auto unloading,Automatic Spray Graphite.for the purpose of protecting the die and make the product demoulding easier,Automatic Spray Graphite device help employee reduce labour intensity,and make sure the spray range and spray uniformity.
Haloong forging automatic production line adopt robot to charge for loading and unloading,then realize fully automatic production.only one operator charge for QC and QA,rather than 3~4 operator in the past time. Enhance the quality and efficiency,reduce labor cost and labor intensity meanwhile.